Post by Onyx on Jul 20, 2012 4:29:49 GMT -5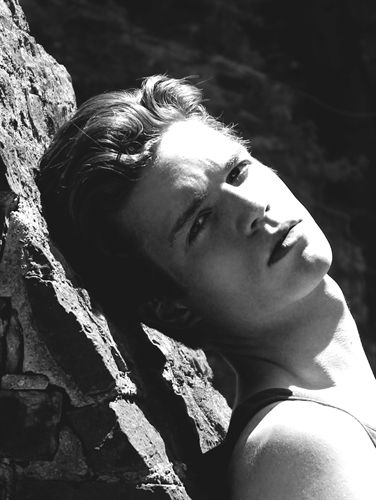 J
[/font]O
H
A
N
N
E
D
D
A
R
D
W
O
L
F
E[/center]
Hello darkness, my old friend
I've come to talk to you again
[/i]
Because a vision softly creepingLeft its seeds while I was sleeping
And the vision that was planted in my brainStill remains
[/i]
Within the sound of silence***
[/center]
The bread here is always cold. I've heard that, in other Districts, the bread tastes like sunshine. Imagine that, biting into summer, soaked in the warmth of a sun-covered pool, crackling with the sound of green leaves on the trees overhead. With every bite, the comfort that comes with long days and short nights would fill your mouth, your throat, your stomach. A whole season crammed into one loaf, the liquid gold of rays of light pouring from it in flour and a fresh scent. I've heard that, in other Districts, the bread may taste like sunshine. But other districts are not District Eight, other bread is not my bread. And cold bread is more fitting for King Jon.

I stand in the dark kitchen as I do every morning, letting the filtered sunlight hit my scarred arms in the glass silence of the dawn. Silence that is almost visible if you're looking, but that can shatter at the slightest disturbance. Wavering like water through the old windows of this wrinkled house, the light is almost blue, and just as cold as that colour should be. I am often up this early to admire how our their house is trapped in a whirlwind of winter, even in the foul heat of Panem's July. It is refreshing, in an almost haunting way, that the grass still crackles underfoot, and the house has the aroma of death and sorrow that has hung here, as if on gallows, since Father's death. The cold keeps memories suspended long after heat would have rotted them away.

I don't sit down as I eat – never have I seen an invitation to sit with the rest of the family in my mother's hollow words. Instead, I stand by the course metal sink, hypnotized in the moment as single drops of water hit the plughole as solemnly as blood from an executioner's axe. Father always said that if someone needs punishing, the man who passes the sentence should wield the sword. But right now I don't feel like the executioner, and I have no one to blame. Right now, I feel like the headless corpse. And usually, I would blame myself, and discipline myself for the crimes I consider huge, just being here seems to be a crime in mother's eyes, but all this self-punishment, the tiny little executions I make on myself every day, evaporates at the sunrise every day. For the end of the long nights that make up my bitter life, I forget about the day to come and live in the moment.

It's incredible, how such a tiny thing as water from a tap can enrapture me so when I am like this. Everything else fades into clouds of icy mist in my mind, and I stare at the slow drip as if it is the most important thing in the world. It's pathetic and ridiculous, Jon, I chide myself, but even blinking doesn't help to break this trance, if a king cannot focus on his whole realm, he does not deserve to be a king at all. But I am a king, and I will be the head here, once the woman who I am supposed to call mother is gone, nothing more than a name and a chill that will join her husband's around this place. Before the Dark Days, there was a king the people called the Usurper, for he stole the throne from another man. Will I be this era's usurper, for stealing the Throne of the Coldhouse from my brother?

But is it really stealing if I am the boy man who is worthy of the throne? Though this family might not see it, I do so much for them that they will never know. I stay out of trouble, invisible and insignificant, not ruining the perfect family portrait by spreading the word that I am not a Wolfe, that I wil never be a Wolfe, making sure I do everything the widow asks without answering back, always upholding the honour of this ancient family that they can only dream exists and–
[/i] The slice of half eaten bread in my hand quivers as I suppress the anger inside me.
What am I saying?
Though it may be mother's aim to make me feel unwelcome in the home that is mine, I have my father's name.
And I shall have his Castle, too.
A rustle from the doorway alerts me and I quickly cram the remainder of my frozen breakfast into my mouth. Spinning on my heel and rolling down my sleeves, I take in the striking silhouette of the Lady of the house herself.
Talk of the Devil…
I swallow hastily, forcing away the now ashen food to make room for words and, twisting my face into what I hope is an
acceptable
smile, I murmur,
"Mother, how nice of you to join me."
[/size][/blockquote][/blockquote][/justify]
"Fools," said I, "you do not know
Silence like a cancer grows
[/i]
Hear my words that I might teach youTake my arms that I might reach you"But my words like silent raindrops fellAnd echoed
[/i]
In the wells of silence***
[/center]