Post by Lulu on Sept 7, 2012 23:08:42 GMT -5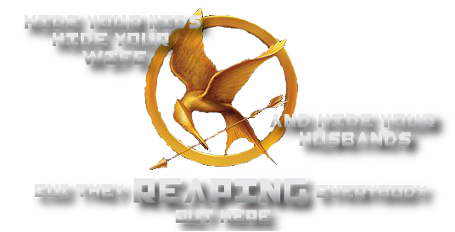 The escort of the district stepped out onto the stage, a smile plastered across his face as he stared into the cameras that surrounded it. It was time once again to choose two children to compete in the Hunger Games, and it was his job to do so.

"It is time," he said as he stood over the impatient people of the District, "To once again send two of our own children to the Capitol to compete in the Hunger Games. Let us begin the Reaping!"

He did not look to see the reaction of his district before reaching into the glass ball that held the names of the female children. "Ladies first," he announced, pulling out a slip of paper. He unfolded it and read out to the crowd, "Aria Wolfe!"
[/color] He then reached into the other ball.
"Bran Wolfe!"
OOC- RPing is allowed. If you wish to volunteer, let the tribute post first either accepting or stepping down from their place for volunteers, and then post. If the tribute doesn't reply by Tuesday, September 11th, a staff member will post saying that volunteering is open. Please do not post until you see this staff message. FIRST COME, FIRST SERVE.
Tributes, please do not make your acceptance or denial of your spot in character; instead, please leave an ooc note at the end of your post stating whether they accept or are stepping down for volunteers.
Also, and this is really important: If you have been selected as a tribute and plan on going into the arena, we HIGHLY SUGGEST you take some RP Tutoring lessons ASAP. It doesn't matter what level RPer you are; everyone can use a little help. RPing a tribute is a PRIVILEGE; if you're not going to put the time and effort into making your posts the best they can be then you can count yourself among the dead.. It's not a requirement, but please please
please
just consider the lessons. They'll help even the most advanced RPer. [/blockquote][/size][/justify]