Post by dars on Sept 4, 2022 15:10:30 GMT -5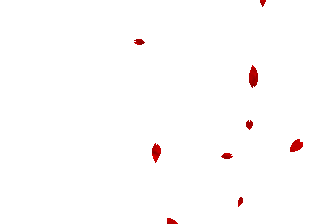 A century ago, during the Dark Ages where the Capitol sought to snuff out all sources of light and hope across Panem, the streets of District Thirteen were showered with rose petals.
But there were no victory banners hanging for all the citizens to see, no melody of trumpets to herald a great triumph for their people. Only the fragrance, and the suspense of it. In the distance, the great and terrible explosions echoed still, and the clouds hung dark and heavy in the sky, carrying the scent of ash and decay on the wind. On the first day of the Red Storm, even in the midst of war, it was easy for Thirteen to write the roses off as a cruel, albeit harmless joke.
Flowers for the damned, and nothing more than that.
Then evening came, and what was once beautiful became violent. During the hours after the petals fell, and the children danced and their parents looked up in awe, something wicked began to spread itself throughout the district — through the bodies of the traitors themselves. The Rose Plague had been initiated. An aggressive, debilitating disease that ravaged Thirteen and its citizens for months without end.
At dawn each morning, the toxic petals would fall again. The virus would find another host. The madness spread like wildfire until suddenly the war had come to their own doorstep. This was their undoing.
In the history of the districts, no one speaks of the punishment that came before the Annual Hunger Games were announced, before the long battle was forced to come to a grinding halt with the bombing of Thirteen. To this day, the true trauma of the Rose Plague lies buried in the dirt, beneath the destruction and tragedy of a society still daring to claw its way out of the darkness. But the Capitol sees all — expects the worst even a century after the white flag was raised. Peace will never exist in Panem.
Something is waking up.
°•. ✿ .•°
What is a nation without her fail-safe? For every whisper of rebellion rising up through the floorboards, the High Council and their officials have moved their pawns on the playing board. Deep in the earth, in contained and spaced out pockets, the disease they created has been activated once more. In the tunnel systems where the traitors thought they were free from the gaze of their superiors, slipping in and out of the districts to relay their messages of retribution for a dead district, it waits like a hair trigger.
A calculated decision has been made. An opportunity to expose the rats for what they truly are. But there must always be a cost, a price they are always willing to pay in blood, and here we lay our scene. In Six, in the height of the Science Fair and its festivities, a rebel troop travelling underfoot has unknowingly sentenced the citizens to a despair thought lost to history. A mass outbreak of the Rose Plague.
Now the citizens of Three, Five, and Six have become trapped together, some forced to leave their homes to make room for the infected. Several blocks of the residential neighborhood have been repurposed into a quarantine zone. And now the officials are making their rounds, monitoring the illness all in the façade of aiding its people, all while secretly trying to deduce who among the diseased are innocents caught in the cross-fire and who are the rebels attempting to evade them. They will be brought to justice.
This war is without end.
ROSE PLAGUE
SYMPTOMS
STAGE ONE
- Characters should experience no notable differences, or very slight symptoms during this period, as in this period the virus is incubating and spreading throughout the body for roughly 6-8 hours. After this time, patients may begin feeling weak or tired, which signifies the beginning of stage two.
STAGE TWO
- Initially, at around 10 hours, patients should begin exhibiting typical viral symptoms: fevers, chills, aches, nausea, vomiting, digestive issues, etc. The patient's pupils will eventually dilate and become extremely sensitive to light, and they will begin to feel a prickling or itching sensation beneath the skin throughout their body.
STAGE THREE
- Most patients reach this stage within only 12-15 hours of contracting the virus. Patients will begin suffering from delirium and may experience both audible and visual hallucinations, they will begin drooling, and they'll develop "
rosy cheeks
" - a signature rash on either side or both sides of the face. Patients will become violent, and are prone to attacking others. Patients who reach level 3 have a stronger chance of having permanent brain damage if they survive, though the likelihood of this happening without proper medical intervention is very low.
PARTICIPATION
In order to participate in this event, all you'll need is:
- A citizen of Districts 3, 5, or 6, or a peacekeeper, or a rebel in hiding, or a Capitolite in power perhaps.
- A tracker like
these
to link the posts made for the event
- That's it! You can write just about anything your heart desires, from a regular citizen who was just trying to enjoy the science fair to a character who is forced out of their own home because of the quarantine, to a peacekeeper trying to find the rebels within the crowd of hundreds of sick, to one of the rebels hiding!! Please still follow the rules and guidelines on the site, and be mindful of other characters.
- Note that characters do not have to die, but you may kill your own characters if you want!
The person who writes the most posts for this event will have the option of adding a custom "Rose Plague Survivor" pin to their side profile on the site.
REBELS
(Patients the virus was intended to reveal, either here from D13 or working with D13 and got infected as a result.)

Keyser Summit,
District 13 [frankel] *
Victor Mathiasen,
Wanderer [tom] *
Ezio D'Angelo,
District 13 [tom]
Tierney Radek,
District 13 [kay]
Gloria,
District 6 [tristen]
CITIZENS
(uninfected residents of D6 who may have been forced out of their homes for the quarantine zone or who have gotten stuck inside the quarantine zone, or people who were at the science fair and didn't get sick.)

Sergio,
District 5 [kaplan]
Wallace McCoy,
District 6 [tom]
Noah Blow,
District 6 [kay]
Delilah Triumvir,
District 6 - [kay] *
Wolfgang Mae,
District 5 [elegant]
Tea Berenstein,
District 3 [zoe]
Helena Churchill,
District 6 [tristen]
Esme Farrow,
District 6 [tristen]
Ace Perry,
District 5 [tristen]
Ebony Mars,
District 3 [tristen]
Serena Belgrave,
District 3 [tristen]
Kryptonite Zei,
District 6 [emsrocks]
PATIENTS
(regular citizens of 6 and the Science Fair who have become infected by the rose plague and are not rebels.)

Van Mars,
District 3 [dars]
Kitt Cross,
District 3 [dars] *
Maverick Hale,
District 5 [nyte]
Flynn Garner,
District 6 [frankel]
Ilex Zan,
District 6 [kaplan] *
Petronella Query,
District 6 [kaplan]
Teddy Ursa,
District 6 [tom]
Dorothy Garner,
District 6 [tom]
Jericho King,
District 5 [tom]
Kiera Mercier,
District 6 [tom]
Loïc Ursa,
District 6 [kay]
Cantara,
District 5 [kay] *
Pollux Fosse,
District 5 [elegant]
Lillibeth Ursa,
District 6 [zoe]
Esra Perry,
District 5 [zoe]
Devery Fantain,
District 6 [tristen] *
Arachne Keeni,
District 6 [tristen] *
Bernadetta Gladstone,
District 6 [tristen] *
Bellamy Bravina,
District 5 [tristen]
Maelle Perdue,
District 3 [tristen] *
Tobin Stephanos,
District 3 [emsrocks]
Pluto Gravity,
District 6 [emsrocks] *
Tawnya Brookes,
District 6 [emsrocks] *
CAPITOL OFFICIALS
(Capitol leadership, law enforcers who have been brought in to guard the quarantine zone and interrogate patients to see which among them are rebels, or medical professionals who are working enleague with the peacekeepers themselves to heal the infected.)

Hera Mullens,
Capitol - Peacekeeper [dars]
Aiden Sedgwick,
District 3 - Medical Pro [nyte]
Finn Cartwright,
District 3 - Peacekeeper [nyte] *
Xantiago Ozlimario,
District 6 - Peacekepeer [kaplan]
Lyndon Blackwood,
District 6 - Peacekepeer [tom]
Nightlocke Helmsby,
District 6 - Peacekeeper [kay] *
Media Miles,
Capitol - Interrogation/Media [kay]
Maverick Miles,
Capitol - Interrogation/Media [kay] *
Aslan Fenwick,
Capitol - Medical Pro [elegant]
Leo Fenwick,
Capitol - Peacekeeper [elegant]
Fox Augustine,
Capitol - Informant [zoe]
Kora Taumata,
Capitol - Media Intern [zoe]
*denotes that character can die.
SIGN-UP
Hi! I'm [u]username/alias[/u] and I'm using [b]Character name[/b], who is a [i](rebel, citizen, patient, peacekeeper, official)[/i] from [i]home/district[/i]. I ([u]am/am not[/u]) okay with them dying. Here is a link to my tracker for this event: [a href="http://"]link[/a]
The event will close for points on
September 24th,
and a winner will be announced shortly after. You may continue writing in the event after this date, you just won't receive additional points for doing so. If you have any additional questions, please reach out to either
10a emerson emberstatt 🍂 tris
or myself (
dars
)!
Thank you so much!