Post by windy on Jan 21, 2012 20:43:34 GMT -5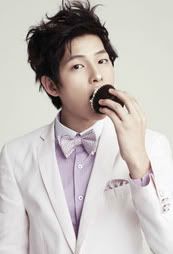 Elijah Lucas Knox
17
District 6
excuse me, but i've got a request
could you take the gag off of my mouth?
i admit that i'm fairly impressed
cause you're the best at blocking me out
appearance

Eli is what some people might call a flower boy. He's attractive. Really, he is. His skin is fair and unblemished, except on his hands where he has many scars from his chemistry experiments. Most of them are burns, though several of them are thin cuts from his fingernails. He used to claw at himself in frustration as a child when he was not able to please his parents. His dark brown hair usually flops over his eyes, obscuring his chocolate brown irises. His eyes, however, never miss a thing. He's always alert and watching everyone around him. He messes with his hair a lot when he'd bored, so it tends to look a bit dirty as the day goes on. On the lucky occasion that they received gifts from his brothers in the Capitol, he always received inexpensive hair products to gel-up his hair. It was apparently all the rage in the Capitol. Always. No matter how many years had passed, it was the latest trend. Eli knew his brothers just didn't feel like getting a more expensive gift. He'd deal with hair supplies.

For a male, he's not very tall. That's the downside to his being Asian. He's a mere five feet and eight inches. He's a healthy one hundred and fourty pounds, thanks to the steady jobs of his parents. He's not a stick, but he's not plump either. Eli most certainly does not work out. He's too cool for that. On the contrary, not working out leaves him with undefined muscles and a little bit of stomach flab. That's not cool either, but there's not much he can do to change it. Because he spends all of his time studying and doing work in labs as practice, he never gets the chance to work out. He'll just have to make do with his boyish looks to charm his way through the world. Like anyone could charm with an attitude like his.

hey hey, can you hear anything i say?
i'm feeling unwanted
that's not what i wanted
and attention to me is something you refuse to pay

personality

Eli. Such a little name for such a big ego. At least, that's what he wants everyone to think. It's Elijah, really, but he never saw himself as a two-syllable kind of guy. He wanted to be cool, slick, a one-syllable guy that would leave people wondering who he was and how they could be his friends. He wanted to be known for his charm and charisma and dashing good looks. Unfortunately, it seems like the only thing he is known for is his bad attitude. He's snarky and snide with a billion sarcastic comebacks ready to swipe you off of his shoulder. His words are like poison, burning through everyone around him with just a single quip. Eli can't be bothered to let losers hang on him. It's not what cool people do. He looks down on everyone from his mighty cloud of sheer awesomeness.

Eli is the slickest of the slick, the coolest of all the cats in District 6. Reapings? He walks in seconds before the picking, hands in his pockets and a toothpick in his mouth. He could care less. What are the odds of him being picked anyway? Who in their right mind would send him away? He's far too smart in the chemistry lab to be thrown away in a certain-death gauntlet. Though, if he did get sent, he was pretty sure he'd outsmart all of the inferior wimps around him. No one could compare to his intelligence. It wasn't possible. Not a chance.

Back at home, however, Eli is the opposite of his supposed self. No self confidence. Fearful. Lowest of the low. Stupid. He's the youngest of five, two of which were picked to leave their district to go work in the Capitol as scientists.

They

were the smartest.

They

had the good looks and genes and perfectness.

They

were superior to him in every way, by his parents' words. He was worthless and useless, they said. He'd be better served working in District 12 in the Seam, they said. He was too stupid to amount to anything, they said. He was born without the sheer power of memorization like his brothers. It took him a while to get things. Eli would study for hours and hours just to compare to the few minutes of work his brothers would do. He was the dumb one. The one who had to work hard to achieve things. In school, he could be everything he wasn't at home.

In reality, Eli tries to make up for his self-consciousness and disappointment in himself by putting on the mask of arrogance. He's serious and gets right to work, trying his hardest to impress others. Despite all of his downfalls and the remarks of his parents, he's determined to succeed, no matter the cost. And so, he's Eli. He's cold and condescending, sarcastic and snide, hurtful and haughty. The mask of indifference hides a life of pain and sorrow.

and i just can't believe the way that this
continues to go on
i say i wish you didn't always think i'm wrong
so tell me, tell me what will it take?

history

From the moment he was born, Eli was nothing but a burden to his parents. Another mouth to feed, another baby to rock, another diaper to change. Jonah and Liliana Knox had already had four little boys before him and certainly didn't think they could handle a fifth. It was their own fault for having him in the first place. If they didn't want another baby, they shouldn't have had another one. But no, they had Eli and promptly shoved him in a corner to forget about. Though his little baby brain couldn't process what they meant, they always complained to him about how much money he was costing them and how annoying his crying was and how they should just give him away. Of course, they didn't do that. They chose to keep him and raise him to believe he was worse than dirt.

Even his brothers mistreated him. As he grew a little bit older, they'd blame every little problem on Eli. He was the scapegoat for all of their mistakes. Of course it was Eli who broke the dish from the top cabinet. He's only three feet tall, but he totally knocked it down. Of course Eli spilt the milk. He's only lactose intolerant, so he was definitely drinking it. Of course Eli stole Tallon's homework. He's only six grades below him so he totally needed that difficult equation's answer. He was obviously the cause of all mistakes and problems in his family. There was apparently no other answer in his parents' eyes. They accepted his siblings' lies easily, willingly. It seemed like they wanted him to look down on himself, so that's exactly what he did.

Growing up, Eli tried his hardest to impress his parents. He studied hard and got good grades and began to excel in chemistry, as he should. His father was a chemist who had worked for the Capitol and then settled in District 6. It ran in his blood to be good at it. Good at it he was. However, he was always out-shined by his brothers. Eli knew he would never be enough in his parents' eyes. He gave up for a time. However, giving up on succeeding seemed to anger them even more than his apparent natural lack of greatness. He learned quickly that his father's backhand was worse than his scathing insults. Back to studying and working non-stop it was. Eli worked just as hard as before, but didn't go out of his way to show his parents his achievements. He faded into the background, a silent mouth to feed in the evenings and wake in the mornings.

By the time he was ten, Eli knew he wanted to be more than his parents' expectations of him. He wanted to get out of their house, the town, and the district. He wanted to follow in his oldest brother's footsteps in moving to the Capitol to get away from the life he had at home. He carefully crafted a more confident self, a person who wasn't afraid of anything and was too goo for everything. His mask helped him deal with the pain of rejection from his own family, but at a price. He became sarcastic and snide and arrogant to the point of disgust with himself, but he felt that he couldn't do much about it. Eli wanted out so badly that he'd do anything to be free. Despite his resentment of his siblings, he wanted to be cool and loved and adored as they had. Honestly, he just wanted to fit in, to be accepted. However, lying about every aspect of yourself doesn't get you anywhere. You only become more of a shell than you ever were.
tell me what will it take
to get this through your head
and tell me what will it take
until you see things through from end to end


Lyrics: End to End by Relient K
<img src="http://i41.tinypic.com/16h2ibt.png">