Post by doodle :) on Dec 31, 2021 3:19:08 GMT -5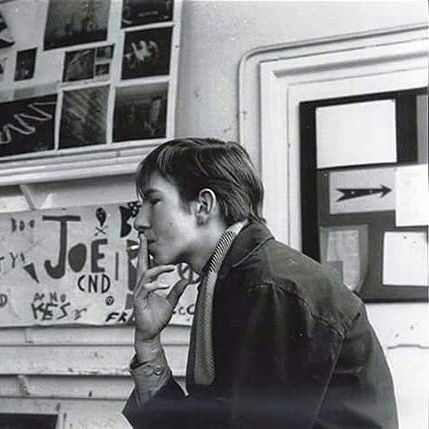 Hernani Hugo

32 33 years old
Capitol/d5 stylist

"The first blackguard you will meet wears his goat's beard, thinks he is very clever, and discards his old relatives. That is republican, that is romantic. What is that indeed, romantic? Have the kindness to tell me what that is! Every possible folly. A year ago, you went to Hernani? I want to know, Hernani! antitheses! abominations which are not written in French! And then they have the cannon in the court of the Louvre. Such is the brigandage of these things." -- Victor Hugo, from Les Miserables

The rain falls in a thick mist. It drapes the city in a dull gray veil that blurs and scatters the neon light. It catches itself in puddles of silver ringlets that pool over black asphalt.
A figure emerges through it. A halo of scattering droplets form around him, glittering as they pitter-patter over his raincoat. He is hunched like a pack-mule, arms burdened by rain-proof casing almost as tall as his body; he struggles with the immense weight of them, and seems to enjoy the sense of struggle.
He is twenty years old, and heading for class. The motion-activated lights of the art studio flicker on as he steps inside. The door shuts behind him. For one quiet moment, he is the only person in the world, alone with the rain dripping off his coat. He unshoulders his burden, setting it down lightly on the floor before he unzips it. His fingers grasp at the smooth glass canvas, wrapping around it firmly, wrestling it out of the bag and hauling it onto the easel. The screen flares to life. He twirls his wrists, flexes his fingers.
"Your style's interesting, I'll give you that much," his mentor once said to him.
His mentor is Don Giovanni, world-famous artist and part-time professor at his university. By luck more than anything else, Don Giovanni noticed him among the throng. He doesn't know why, and he doubts Giovanni knows either.
"There's a certain…charm, I suppose, to your…imagination."
Imagination.
"But it's…I asked specifically that you copy a trend. I don't…What trend is this supposed to be? It looks…"
"Romanticism."
Don Giovanni barked a laugh. "That's not a trend, kid! I mean…The pink trend, the blue trend, the green one? Or the…The superhero one, the…the video game one, what it's called…Or, you know the – Stella Blakesly trend? You know…what do people like?"
"I don't know what people like."
"Learn it, then. You're an artist, Hernani – aren't you?"
"I'm an artist," Hernani agreed.
In his art history class, the professor brought in two real cloth canvases, with real paint swirled across the surface. The paint was layered upon itself, naturally creating textures he had never seen before in a painting. On the other, the painter had created the soft glint of light across satin, so that the satin seemed real, as though Hernani could reach into the canvas and touch it. No fenangling of a computer screen had made that effect. Paint and intelligence had.
"Old," the professor called it. "Archaic."
He sees the haze of his eyes reflected in the tablet-canvas. As the rain patters against the glass, he paints, twisting the whole of his body to form each stroke, so that the painting is formed in slow, quiet dance.
She recoils as Hernani draws out the canvases.
She is a talent agent. Her jet black bob is sheer and glints like a knife-blade in the light. Her turtleneck and thick-rimmed glasses match her hair. Her face is a triangle that juts up from a rail-thin neck.
The office goes quiet. He stills, a canvas drooping in his fingers as he peeks at her. He is twenty-two, and his cap and gown have been shoved into a corner of his parents' attic. Don Giovanni said this woman was good, would help him.
"WHAT…are these?" her voice is a sweeping dramatic drawl.
"Paintings," Hernani murmurs, shrugging almost helplessly.
"Where did you find these, the Dark Days?" she snorts, taking them in her claw-thin hands and flipping through them. "The districts?"
"I made them," an edge comes to his voice.
She grows silent as she eyes one in particular, face drawing close to the textures of the strokes. A glimmer of interest, bordering on curiosity as she examines the wave-like strokes, coming together in a dream-like reality. Colors existing within a wave-like ethereum. Not quite real, not quite dream. How our emotions perceive the world, not our eyes.
"You've a cute style," she drawls, eyes fixated. "But it isn't…how do you say…
contemporary.
I mean…Allow me–"
She seizes her phone in a bird-like swoop, fingernails clicking as they peck at the screen, adn then shoves it into his face.
The digital painting is a vomit of colors, arranged in mosaic shards that come together to not form anything in particular. Hernani recognizes it immediately as one of Don Giovanni's paintings. She swipes to the next one and the screen goes white. ("The highest grossing painting of our day," she explains, because she's used to having to explain it.)
"This is what you're supposed to be today, if you want to paint for galleries," mercifully, she draws the phone away from him. "Not…whatever this is."
"Oh…sorry."
She dismisses him. As he steps out of the office building, a light rain begins to sprinkle. It grows in vigor as he trots down to the bus station, and waits, examining his leather-bound portfolio.
He is twenty-three, and doing his best.
Thunder roars, shaking the window panes of his parents' house. Unsold paintings and old loan documents litter his floor, his childhood bed, his desk; they fringe around the round arena of space he's made for himself. He is surrounded by scraps of cloth and string and boxes of sewing needles. Before him is a small, thin quilt. An attempt at reproducing Don Giovanni's famous "Shattered" painting. All nonsense and blaring color, coming together in sharp geometric shapes, uniting into a formless mass that spreads in many directions. In frantic movements, he sows another shape into the quilt, then stops to examine his progress so far.
Suddenly, without thought and without anger, he rips it apart. It's ugly. It needs to be fixed.
He does it again. The light of thunder blasts and turns the black windows into sheets of light. He stops to watch. Again. Again. Again. Beautiful. Again. Again. Again. The light. Once more – don't stop – once more…
Light.
He looks down at the quilt. He does not see the quilt, he sees a painting.
Light.
No, maybe not a painting – painted animation…Or perhaps…he can capture the motion of flickering light…but how…
That is not what the people want. What they want is Don Giovanni. Then they must have Don Giovanni.
Once more, he tears apart his quilt, and begins its reconstruction.
The other day, he got this text from an old college buddy. "Dude, just draw porn on Polaroid. It can be the shittiest crap, and they'll still throw money at you."
No,
he says quietly to himself as he watches the dance of light.
I don't want to do that.
He is twenty-five, and draws porn for commissions on Polaroid. He stands out on the porch of his apartment and watches the rain clouds brew overhead as he smokes his blunt. He waits for the rain to begin.
Rain.
Across his walls are paintings or prints of digital paintings, all unsold, waiting for their chance, their moment to be seen by eyes that are not his own. One of them is of the flash of lighting across the sweep of dark clouds, thick and burly above the grassy plains and the little people that stand to witness the coming storm. The lightning is their sun, Hernani has decided. It is the light which makes the green things grow. It is a giver, not a taker, in that world. And with the coming of the lightning is the coming of life-giving rain, that shall descend upon the dry dust and wetten it, and turn it into wet clay, and from there life shall mold the clay into what it must be.
He misses ceramics. All he does is draw porn nowadays. He's not an artist anymore. He's a content creator. (And maybe a prostitute, but he's not sure where that line is drawn.)
"Hey, that's the new-new artist, Eri!" Don Giovannia told him over the phone, a few weeks ago. "Who needs a gallery when you have a phone! Look, stop overthinking it. What matters is that your bills are paid and you have eyes on your content. That's what matters these days. You gotta be flexible, a crowd-pleaser. That's how you make it."
It used to be – according to his art history teacher – you became famous (or, rather, infamous) by being rigid in your art. But that was long, long ago…Back when Panem didn't know what order was. You set your feet firmly into the ground and you ground your teeth together and you screamed into this godforsaken whirling thing we call a world, "THIS IS WHAT LIFE IS AND YOU CAN'T FUCKING STOP ME."
And now the artist is whatever the world makes it.
And Hernani is nothing much in particular.
He is twenty-eight, and draws commissions for Polaroid. He can finally look his parents in the eye when they ask how his art career is going. He's moved onto doing safe-for-work commissions now. Mostly, he gets consumers' attention by making digital paintings of tributes, celebrity victors, and characters from popular movies and shows. He's had to move into a cheaper, smaller apartment to make ends meet.
Tablet in hand, he goes from gallery to gallery, marching feet splattering rain puddles. He has no idea where is going most of the time. He sits in the waiting rooms of art dealers and stares at the floor until they allow him entry, if they allow him entry.
Sometimes a digital painting is sold. One blockchain group even commissioned him to design their NFTs (and then they took most of their investors' money and ran). A fashion line showed him interest and hired him on as a paid intern – an extra pair of hands to make the clothes for the runway. Okay experiences, he guesses.
Getting there, he supposes.
He is thirty.
The rain comes down in thick sheets around the yatai. It lingers within the shadow of Hernani's apartment building, a spot of sudden amber glittering within a gray alleyway, now hazing in soft topaz clouds as the individual droplets reflect the light. Hernani sits on the bench, back leaning against the stall, peeling the label off his half-empty beer bottle. His friend, the owner, cleans his grill. They're both sort of the same. Two Capitolites that chose a humbler, quieter way of living. Both having lived without modifications to the body, both having avoided the neon roads of Saturn City even when it could have led them somewhere. "The ghosts," they're called. Nonentities submitting to an old instinctive conformity that the city has worked to stomping out of human consciousness. Their bodies are reminders of a past that should be dead.
Hernani looks out across gray buildings and dark roads, all specked with sudden squares and circles of light. He watches it shift as the rain pours, flickering silver, coming down upon itself in growing puddles that advance over the asphalt, rippling as it grows, moving its surface – its skin – like a living thing.
He sees the individual raindrops fall into themselves, and cast circles across the road. Circles within circles within circles. Again, and again, and again.
The people walk by with their bright skin and their sudden hair and their jagged clothes. Force-brellas wrap around their bodies, so that the rain droplets are shattered and curve down the invisible protection, outlining the people in a halo of curving water.
He turns his eyes to the clouds. "Does anything ever change?" he whispers.
He is thirty-two, and is used to things by now, though he doesn't think he likes "things" very much.
He has walked up the stairs to his apartment, shifting to take off his damp raincoat as he approaches the door to his apartment.
"Hi, Eri," a thick voice rasps.
He looks up. Seated on his doorstep is a fat troll-like creature, round face capped with white frosted hair, white suit bulging around them as its gold peacock patterning flicks in the dull yellow light.
"Don!" Hernani blinks.
"I kept trying to call you."
He'd dropped his phone in a rain puddle and had forgotten to pick up a new one. But he's not going to tell Don Giovanni that. "Sorry, I guess I left it on silent…"
Don Giovanni struggles to rise. "This really where you've been living? Damn. I suppose I have neglected you…"
Hernani stands before him, hands clasped. "Should I let you in?"
"No, no, don't bother. Sitting out here has been depressing enough." Don Giovanni spreads his arms wide, a grin sprawling over his face. "Hey, look on the bright side! In a few weeks, you can kiss this sorry ass-hole goodbye!"
Confusing verbiage. Is Don Giovanni calling himself an ass-hole, or the apartment building?
"But listen…" Don Giovanni sways closer. A faint trace of alcohol rolls off his spotless suit as he holds his hands out for Hernani. "Listen…I got just the thing for you, okay? Just the thing…You won't fucking believe it…"
Hernani blinks slowly, patient though uncertain of interest.
"So…District Five…You know District Five, right?"
Hernni's eyes dare to brighten. "I was born the year Lethe Turner won!" he says fondly, though really it means nothing to him, just like how his astrology signs mean nothing to him but they're still fun to chit-chat about.
"Oh???" Don Giovanni stops – even the muscles of his face seem to freeze. Then, slowly, as though in a thaw, his lips twitch into a smile somehow bigger than the last. "Ohhhhhhh!" his moan borders on the erotic. "Ohhhhhhh HO HO!" Then he gasps, whispers in awe: "It's fate…!"
"How's that?" The little eager pinprick of light in Hernani's eyes snuffs itself out.
"Oh, right, I haven't told you yet! Alright, sit down, you better sit down – no, wait, there's no chairs – okay, I'll just tell you! I pulled some strings, yah know, sucked some dicks, line some pockets — cause, cause, see, Eri, I've been thinking about you, all these years, I love the hell out of you, you're the son I've never had, Eri, the son I've never had…"
"Thanks?"
"Except I've never wanted to be a father and I hate kids."
Hernani glances at the ground.
"Anyway! So, District Five needs a new stylist, right?"
Hernani's gaze slide up, stare into the little troll's smile-crinkled eyes. And his stomach plummets.
"No."
"Yes!"
"No."
"Oh, but YES!"
"But I'm a…painter!" Hernani struggles to get the word out for some reason.
"So?? Who gives a shit what anybody is! You've dabbled with other media!"
"
Medium
," Hernani corrects under his breath.
"Look, Eri." Don Giovanni draws close, the smell of alcohol sharp on his breath as he takes Hernani by the biceps, stares intently into the younger man's eyes. "This is a job. A damned good one. Okay? This is fame and fortune. This is the entire country, looking at
you
, at least for a minute, every year, until the contract expires. Okay? This is
big
. And you'll be big. You'll be huge! The moment you sign that contract, the world will know your name. You'll never have to live in a place like this again. You'll
be
someone, Eri! Really
be
someone!"
Hernani stares into Don Giovanni's eyes and wonders if he's dyed them again.
"It's a job, kid," Giovanni hisses through his teeth. "Take it!"
He realizes he's never really known what he wants to be. An artist, or
Big
.
There's a difference.