Post by jess on Jun 4, 2019 16:29:40 GMT -5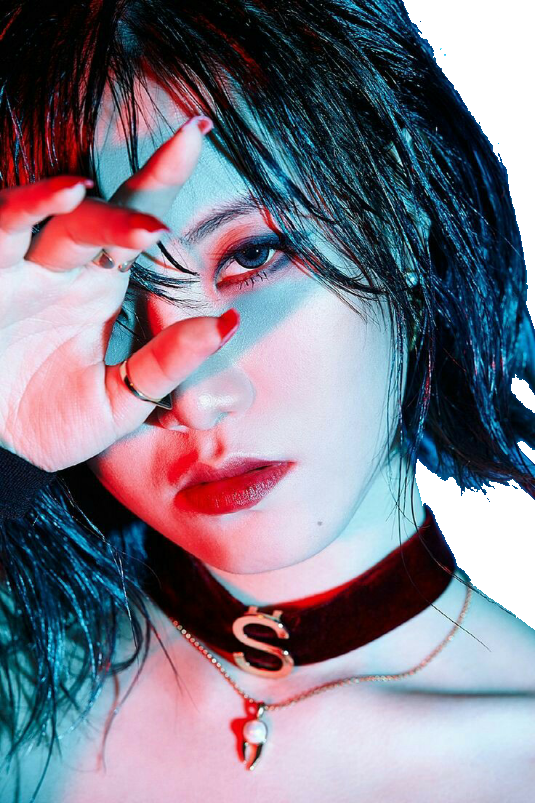 b l a i r

---


Once, when Blair was twelve years old, she somehow tripped whilst training with a heavy sword. Her hand had slipped, the blade slicing cleanly into her flesh, and within the blink of an eye she found her arm drenched in crimson. It had been the first time she'd ever received a wound so severe, yet it didn't hurt nearly as much as she thought it would. Perhaps it was a rush of adrenaline that numbed the pain for her, or perhaps it was her fading consciousness, but ever since then she's been a lot less fearful of pain. A temporary feeling, one that passes as all other things do. Her mother had forcefully grabbed her wrist to inspect the wound, and her thumb had dug slightly into the cut, causing her to grimace. A sign of weakness. Something her mother would not stand for.

The only remaining trace of the wound is a faint pink line tracing down her wrist. It hadn't been deep enough to put her life in danger, but the mark remains today, reminding her of that moment of weakness. To let herself look cowardly, in front of her mother of all people, was probably a more serious death sentence than the one she faces now.

As her mother had hurled degrading words at her, her father had been a few steps behind, cowering. The only saving grace of the situation was the fact that Blair wasn't the biggest coward involved; her father had been, never stepping in, never defending his daughter from her mother's tyrannical grasp. It's just as well – she didn't need or desire his help, not then, and certainly not now.

Even with that thought in mind, the clear absence of her father in the justice building gives her the slightest feeling of dismay. She holds her hands together in her lap, wrist upturned so she can focus on the scar, focus on gathering herself to look as put together as possible when she returns to the public eye.

The door opens, her father finally making a belated appearance. He's still stumbling slightly, but is a lot steadier on his feet than previously; perhaps he took her advice after all, and sobered up before going to see his daughter for what could be the last time. When she looks up at him, she sees a pitiful man, and realises that without her there he could quite possibly fall apart. That's on him, she wants to think, but even she can't be completely heartless when it comes to her own blood. Someone who shares the Havoc name.

She rises to her feet before he can speak, grabbing his wrist, the same as her mother had done to her all those years ago. His eyes flick down towards the scar, emphasised by the pale skin surrounding it. Her eyes are dark, and his are bloodshot. She sheds no tears, and he holds his back.

"Listen to me," she says, urgency lacing her voice, her grip on his wrist tightening as she speaks. "I can't look after you anymore. Mother isn't here to look after you anymore. You're on your own, understand?" He breaks the eye contact, and she digs her nails into his skin. "Dad, look at me." Reluctantly, he looks up to meet her gaze.

"Stop drinking." His brows furrow. "I don't care if it's the only thing that helps you cope, it's going to ruin you. Go out, make some new friends, find a woman, I don't care what you do, as long as you don't lose yourself again." The words leave her mouth without passing through her brain first. She doesn't know where the urge to protect her father comes from, but thinking of all the times he's stumbled home just to collapse on the couch in a drunken mess makes her blood boil. "I'm strong. I can do this. But strength isn't everything in the Games. This could be the last time you see me, and if that's the case, then I want this to be my dying wish."

He's definitely about to cry now. She represses any feelings that threaten to surface, choking down any emotionally spurred words and instead speaking as firmly as possible.

"I'll make you proud. I'll make Mother proud."

"You don't need to make us proud, Blair," he speaks for the first time that day, his voice cracked and broken. Despite his inability to show it, she thinks her father is the only person who has ever loved her; maybe that's why she's so intent on protecting him. "All I want is for you to come home. And… if she was here, that's what she'd want to. Even if she never showed it, she loved you."

Now it's her turn to furrow her brows. It must be the alcohol talking. In her mind, she can picture what her mother would say perfectly, and not a single word of it emulates anything even resembling love. Her mother didn't love her. Not now, not when she was alive, not even when she was born. That woman was devoid of emotions, incapable of love, and she was the main reason why Blair is like that today.

"I have to." She releases her grip on his wrist, and steps back.

"If I don't have glory, I have nothing."

For once, her father is left speechless. The door opens again, a Peacekeeper ushering him out. She doesn't break his gaze as he leaves, and he doesn't speak again.

She slowly steps backwards, falling back onto the chair. Her finger traces the line of the scar, and she lowers her head until her hair conceals her face.

Then, and only then, she allows a tear to escape, running down her cheek, a single drop of emotion against a monochromatic slate.


☣